Financing Guide: Learn how to finance your Extreme Tool Box order with us
Financing now Available
Let's be honest! Buying a Tool Box is not a small investment. That's why we offer you 2 Financing Options on our site: Affirm Financing and Katapult Financing!
And to make things even smoother for you, both of these providers are accessed through the same application!
Read on to find out how to use either option for Rockin Toolboxes Financing: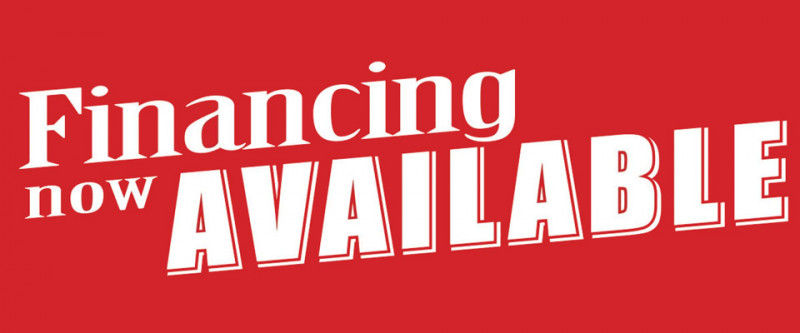 Before we begin, please remember that we have no saying on the financing process as it is entirely operated by either Affirm or Katapult, depending on approval, nor are we at Rockin Toolboxes in any way related to the checks and decisions of these payment processors.
For any issues with these services, you must contact their respective customer services. For more information on their services and support, check with Affirm and Katapult. Click below to learn more:
Affirm Financing
Affirm:
We've partnered with Affirm to offer you easy ways to finance your Rockin Toolboxes purchase! Affirm provides payment solutions for millions of customers across thousands of merchants in the US.
The great thing we love about Affirm is their offer of financing from 3, 6, 12 and up to 36 months at a very competitive interest rate starting from 0% APR or 10-36% APR based on your credit.
You just place your order today and then pay in easy monthly installments later.
To learn more and get an estimate, click on the yellow Affirm banner found on each product page. The banner is shown by the green arrow in the screenshot below: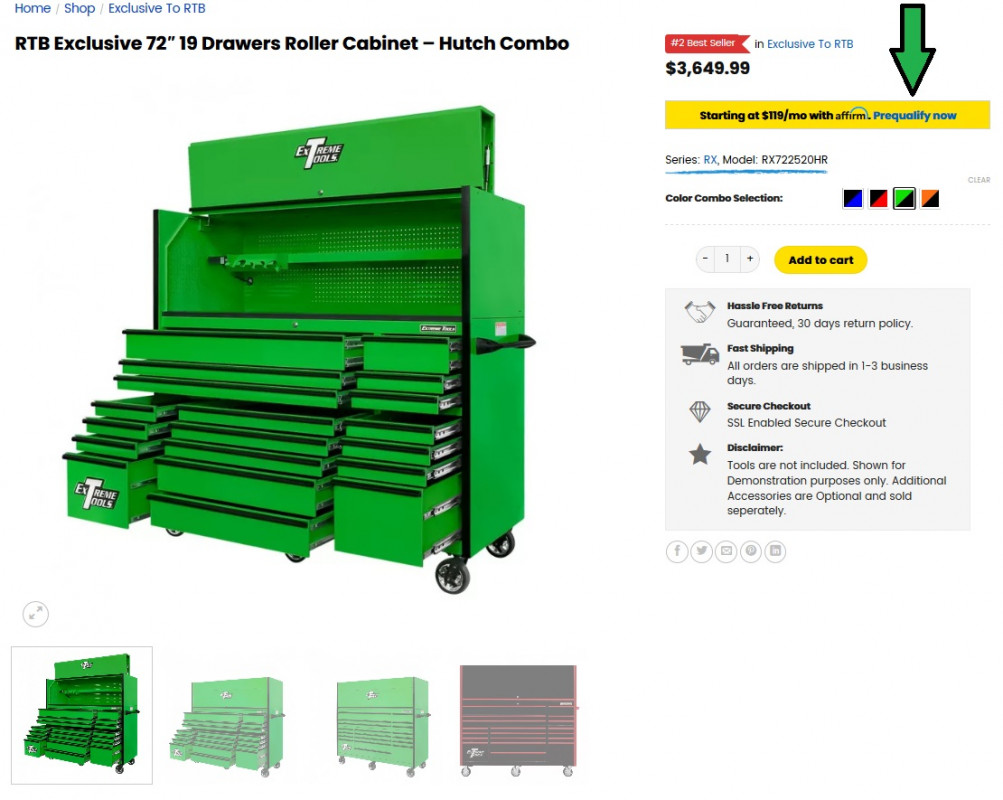 Keep in mind though, that the offer you get on the product page from Affirm is one they think suits you best. But it's not the only one and there are more offers in the checkout page!
Depending on the total sum of your order at checkout, there will be offers for even longer payment terms. For example 6 months, 12 months or 36 months. That is one of the main reasons we and our customers love Affirm!
How To Finance Your Order With Affirm In 4 Easy Steps:
Step 1: Add an product to your cart and then click to go to the checkout on the pop-up that appears.
Step 2: Fill out your Billing and Shipping Details on the checkout form before you select the shipping method you need.
Step 3: Select the "Affirm Monthly Payments" payment method.
Step 4: Confirm that "I have read and agree to the website terms and conditions" by ticking the checkbox next to it and then click on the "Place Order" button. After that. you'll be asked to enter your details for Affirm to verify you and calculate your financing deal. After that you will and receive an instant decision, completing your order!
That's it!!
Click here to learn more about Affirm!
* Your rate will be 0% APR or 10-36% APR based on credit, and is subject to an eligibility check. Payment options through Affirm are provided by these lending partners: affirm.com/lenders. Options depend on your purchase amount, and a down payment may be required.
Katapult Financing
Katapult:
Katapult offers a simple, straight-forward lease-to-own payment option to help you acquire any of our Toolboxes. The approval process for a Katapult lease starts automatically if you are not approved for an Affirm financing offer and is handled from the Affirm payment gateway on the checkout. So, apply for the Affirm financing and if you are not approved, you will be given the option to complete your order via a Katapult lease, all within the same application.
For the Katapult lease process you will need the following:
A valid mobile phone number that can receive SMS text
A valid US address
A valid Social Security or Taxpayer ID Number (ITIN)
A valid email address
A valid credit or debit card to make payments (no prepaid or gift cards)
A valid photo ID showing you are 18 years of age or older
Getting pre-approved for Katapult does NOT affect your credit score.
To learn more on how Katapult works, please check their FAQ